The Age of Free Game Engines is Here
Last Updated
Mar 30, 2015
Everyone in the game industry is abuzz with joy with the recent downpour of free gifts from the Game Engine heavens. Unreal Engine 4, Unity 5 and Source 2 are all available (or soon to be available) for free in some manner or other. This is great news for hobbyists and indie developers. I'm not going to spend time talking about that in general, as the Internet is awash in opinions and news far more insightful than I can provide.
But I can answer the questions directly relevant to Wall Worm. Where does Wall Worm fit into all of this? What are the plans of Wall Worm with Source 2 looming on the horizon? These are the questions I've gotten the most in the last several months.
Wall Worm has many plans for the future. Among them are continued development of pipeline tools and plugins for the 3ds Max universe. And while we have historically focused on Source, we have been and will continue to start dabbling in other engines and even cinematic pipelines.
Wall Worm is Now an Army of Two
Yes, you heard that right. Starting in November there has been a new set of eyes and hands contributing to the the code in Wall Worm. Meet Orvid King. That's not his real name, but unlike me he prefers an element of anonymity.
Orvid is a bright young programmer from the Mid-West, USA who has added a lot of expertise and skill that benefits everyone who uses Wall Worm. His proficiency in multiple compiled languages have enabled Wall Worm to delve deeper into more powerful tools; his obsession with beautiful code has helped compact and optimize a lot of the tools inside Wall Worm. If you haven't done so already, go to the WW forums and give Orvid a warm welcome!
Efficiency and Optimization
When Orvid came on board, we started tackling functions inside Wall Worm that were painfully slow. Among them were various Displacement functions, the VMF Exporter and more. Orvid spent an appreciable amount of time researching performance bottlenecks inside Wall Worm.
His findings and eagerness to tackle these issues invigorated me to put energy into those places too.
In the process, we increased function speeds for several tools in Wall Worm by up to 90 percent or more. Some test scenarios that had been taking my system over 10 minutes to accomplish now finished in under half a minute. Creating Displacement Sculpt Meshes or the Sculpt Mesh commit functions no longer warrant a trip to the store for adult beverages as you wait for it to finish; exporting complex levels to VMF now rarely takes more than a minute (previously, they could take up to ten minutes). And exporting SMDs and DMX no longer slows down because there is a Skin modifier or an Edit Normals modifier.
Wait... did I say DMX?
Wall Worm Pro
Wall Worm Pro is the current focus at Wall Worm Headquarters. Wall Worm Pro is a set of scripts, plugins and .NET assemblies to speed up functions inside Wall Worm—and to add functionality. As the name would imply, this is a commercial tool.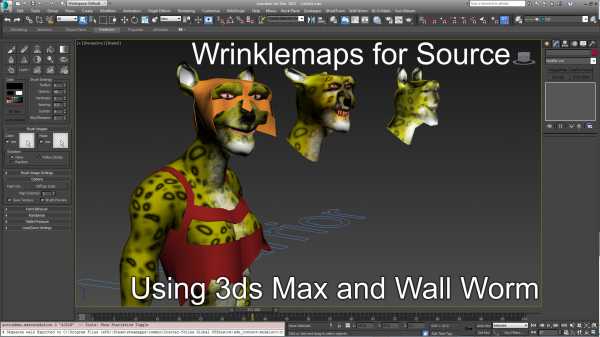 When I first announced Wall Worm Pro on the WW forums and a few other forums, I received mixed reactions to the endeavor. Some of the hardcore WW faithful were excited, and have already paid for the Alpha version. Others shared skepticism about WW Pro. Some have felt that the writing is on the wall for WWMT as a free product. I've heard several people warn me that the Source community will turn their back on Wall Worm if it goes commercial.
Here's what is important. Wall Worm will probably always be available as a free tool set. Also, while we have been developing Wall Worm Pro, we've been enhancing and improving Wall Worm itself. Since starting Wall Worm Pro, the free version of Wall Worm has now gotten a proper SMD Importer (with good Skin weights), a VTA importer, enhanced QC importer, .MAP importer, .MAP exporter, HL1 SMD Exporter, WAD importer/exporter, all the faster tools mentioned above, and more. All of these have gone hand-in-hand with the development of Wall Worm Pro! You do not need to buy Wall Worm Pro to use Wall Worm.
Wall Worm already saves you time. Wall Worm Pro saves you even more time. Depending on what you do, it might pay for itself in the first hour of use.
So What's in Wall Worm Pro?
Wall Worm Pro has several benefits over Wall Worm. Those benefits are a result of many functions being converted to C#/C++ to take advantage of the 3ds Max SDK.
Functions that work faster:
VMF Exporter (up-to 50% faster)
SMD Exporter (up to 16X faster)
Material Library Generator (up to 95% faster)
FGD Parser (almost 100% faster)
Aside from the speed enhancements, there is also new functionality.
DMX Exporter (both standalone and inside WWMT)
Arbitrary Texture Export
VTF Importer
Many of these new tools are not yet documented well but we will be adding documents as soon as possible. The features listed above are already available inside Wall Worm Pro. We are currently working on adding a native VTF writer into Wall Worm Pro that will bypass the need to use Valve's VTEX application and will give you full control of the VTF attributes directly from arbitrary texture map nodes inside of 3ds Max.
At this time Wall Worm Pro is in Beta. We now feel pretty confident about its stability and functionality, but are keeping the Beta label because the user base of testers has been very small. If you purchase Wall Worm Pro now, please report any bugs on the forums.
There is also a new Wall Worm Store where you can get all the commercial WW plugins and where you now go to download the free Wall Worm. Aside from plugins, I expect to start posting inexpensive asset packs there as well. Existing customers can login there to download previous purchases and to find their Wall Worm Pro license key.
Wall Worm Level Design Contests
As most people know, I am very passionate about using 3ds Max and Wall Worm for the entire Source Engine pipeline, including level design. In many circles, that's pretty taboo. Many people who design levels for Source love Hammer and see little use to try 3ds Max; others just don't have the time. I understand that—and know that many people have taken my passion for Max as condescension for those who use Hammer. For those who feel that way, I deeply apologize; I hold no ill-will.
That doesn't mean I'm not on a crusade to show you the benefits of using Max over Hammer. It's one reason I wrote Hammered to the Max last year (which I'll be updating after we finish Wall Worm Pro).
My next tactic to spur some interest is starting a regular level design contest using Wall Worm. I've started this contest on the WW forums. Prizes include copies of commercial Wall Worm tools and bragging rights—and the experience of learning a new work-flow. The first contest is for building levels for Source having a desert theme: Amazing Desert Contest. I originally set the deadline for the end of February, but due to the low number of entrants, it's now set for April 30. I hope this newsletter spreads the news some and entices you all to participate.
Under threat of being attacked by a hoard of Angry Hamsters, Rick "RickD" Underhill has agreed to help judge the levels.
To aide anyone curious about transferring a current Hammer project into Max, I've loaded a new video and updated the documentation on the VMF Importer. The problems with bad brush imports were all fixed sometime in the last several months, so anyone who tried it last year with odd results might consider giving it another go.
Consider the first contest a bit of an appetizer to get acquainted with the level design work-flow. The next contest has a $1K plugin prize from one of my favorite plugin developers! Keep an eye on the WW forums and the WW Youtube channel for some videos aimed at helping contestants in the coming week(s).
What's in the Future?
The future looks great for game developers, I think. With the release of so many game engines now accessible to the masses, there really isn't anything blocking anyone from delving deeply into creating new games and new worlds. You might think this would discourage me from continuing to develop Wall Worm. Far from it, I think the value of tools like Wall Worm will remain as strong as ever. Although Source 2 has a much better asset pipeline than Source, I'm pretty sure I can find ways to make it easier inside Max. I expect that as soon as a game like Battlefield 2142 is released on Source 2, I'll have no choice but to build a VMAP exporter (the new level format).
No promises, but I may also look at adding an UE4 pipeline into WW. If that happens, it will likely only be part of Wall Worm Pro.
Speaking of new engines, how about old ones? You can now export levels, models and WAD files for Goldsource with Wall Worm. Some of this is documented on the website. It may be a decade and a half late, but what the hell!
And speaking of Goldsource, I've been secretly in cahoots with one of the legendary CS 1.6 level designers from back in the day. I've been pestering him/her off and on for a while now. There is nothing written in stone, but I'm pretty sure you'll all see the return of one of your favorite mappers coming to a newer mod like CS:GO or Insurgency—all using Wall Worm. Fingers crossed. The moment this talent is all-in and lets me share the news, expect to hear about it on the WW forums—and probably across the mapping world.
(If you too were mapping back then on Worldcraft or an old Hammer, maybe you'd be interested in the new video demonstrating how to import your old maps from Goldsource.)
Around The Industry
What about 3ds Max itself? You wouldn't be alone if you started feeling like Autodesk was turning its back on 3ds Max in favor of Maya over the last few years. In fact, some game studios are Maya-only these days. Don't be too alarmed. While I don't fully trust the business managers at Autodesk, and I'm leery about their upcoming Adobe-like licensing changes, I'm not afraid of 3ds Max's development future itself. I'm personally more optimistic about the Max development right now than I have been in years. The 3ds Max 2016 feature list has been leaking out. Among the things you'll get are OpenSubdiv, a multi-camera sequence render utility, even faster viewport, Physically Based Rendering (PBR) ShaderFX materials and more.
My impression is that 3ds Max development is actually ramping up right now for all creative industries. If you didn't hear it, go listen to Allan Mckay's interview with 3ds Max project manager Eddie Perlberg.
The Source world may feel that I'm an Autodesk fanboy. No... I'm a 3ds Max fanatic, but often very leery of Autodesk itself. The company has done many things that have caused me to blow a gasket over the last few years. But at the end of the day, 3ds Max is the most robust environment for building virtual worlds, and it's getting better every year. Call me a sucker, but I do believe a lot of the assertions of Eddie Perlberg over the last year or two about renewed focus on Max. There is something in his inflections or demeanor that warrants a natural acceptance; my gut tells me that he's not a puppet and is passionate about our success at utilizing Max to reach our goals. The longtime push to get us to think of Max and Maya as tools for different jobs may still be there behind the scenes (as Autodesk wants us to buy them both), but I think that Eddie and his team understand that this is not what the Max user wants—and that the success of Max relies in many ways on the fact that it has a design philosophy that simply compliments masses of creative minds.
This video came out during the 2013 SIGGRAPH, but I only recently saw it. I think it's a great video for anyone who is skeptical about the high-end production value of a 3ds Max pipeline: Pixomondo: VFX for Star Trek Into Darkness using 3ds Max.
Around the plugin world, there have been some really great new tools released. Just a few include some updates to Neil Blevins' Soulburn Scripts with new free tools; Itoo's RailClone has had many cool enhancements this year, many of which are in the free version—and support for both RailClone Pro and Forest from Itoo have been integrated into the Wall Worm VMF Exporter; Rayfire added some new goodies that make sweet demolitions even easier—and I'm going to show you how to take advantage of that in a new video soon; Rotem Sciffman has produced a nice Virtual Frame Buffer that you should check out; JokerMartini, with whom I've begun to collaborate on random things here and there, has continued to create new free 3ds Max goodies. I could go on and on and on...
For Source: Crowbar is nearly ready for a new release that will help Wall Worm users re-use model assets.
Also, in the last couple of weeks, there have been updates to both Normal Tools and Detailer for better/faster foliage; and many updates to CorVex since the last newsletter. In fact, I've been proud that CorVex has been a featured application on the Autodesk Exchange Apps site for months now.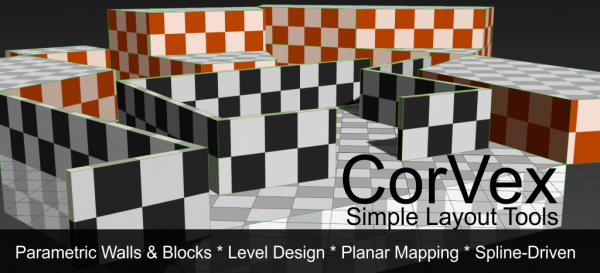 Conclusion
I generally post updates regularly on the WW forums, so if you don't want to wait another eight months for the next newsletter, consider joining the forums. And please start sharing screen shots of your projects on the WW forums. It's always been a sore point that I answer so many questions over email, IM, Skype and forums but so few of you are showing off your work on the WW forums!
I truly do enjoy receiving emails from everyone asking questions, but I hope that the WW gang starts participating on the WW forums a little more. I'd love to see the group interacting with each other more than always directly with me--and showing off whatever it is you are creating.
At least one of the hardcore faithful posted another screen shot of his WIP: Joris Ceoen is sharing some screen shots of his current project de_pontifici. In the map credits Joris has kindly credited my name... but the reality is all I've done is offer insight on Max and Wall Worm. But it does make me feel good that he is showing such support. I think this will be the first fully Max-made CS:GO level that will get some people to start looking into alternatives to Hammer more generally.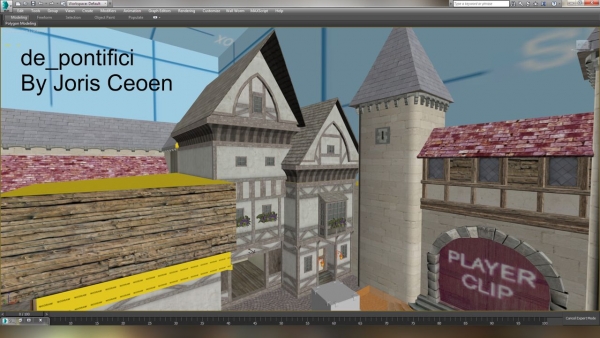 Finally, a piece of info on Max. When I get my copy of 3ds Max 2016 installed, it will mark the last day I will be able to open Max 2012. I will make sure to have a snapshot of WW and WW Pro posted for those versions. I expect that updates will continue to work in Max 2012, but I will no longer test in that version at all. I know that many in the Source world swear by 2012. I personally recommend Max 2015+ for multiple reasons. However you slice it, official support for 2012 is at an end at Autodesk and in Wall Worm.