WWMT Level of Detail Model List
Last Updated
Feb 13, 2012
This rollout displays all of the LOD (Level of Detail) models in your model. Inside this rollout you can select the helpers that control LOD switch distances, vertex count percentages and add/append models to your LOD models.
By default, the list shows three (3) LOD fieldsets. You can change the number that appear for you in the LOD List Length setting.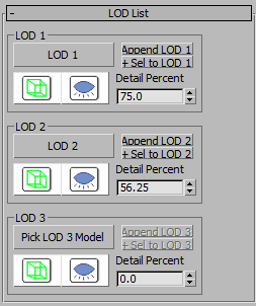 Pick LOD #

Pick this button to choose a base model for your LOD. You should generally only pick this button if you are making your own LOD models and not using the auto LOD generator.

Append LOD #

Click this button to add a mesh to this specific LOD level. Generally speaking, you should only use this if you are building your own LOD.

+Sel to LOD #

Click this button to add all selected objects to the mesh list for this LOD model. Generally speaking, you should only use this if you are building your own LOD.

Select Distance Helper

Press this button to select the LOD switch distance helper for this LOD. This will let you drag the distance helper to the right location and set the distance at which this LOD will become active.

Show/Hide LOD

Click this button to show/hide the geometry for this LOD as well as show/hide a yellow wireframe sphere that demonstrates the radius from the origin of the model at which this LOD becomes actice.

Detail Percent

This spinner controls the vertex percentage for this LOD. It controls the percentage of vertexes in this LOD (related to the root model).

The percentage is only based off of the original model if you did the auto generation.

Del Sel [Added in Version 1.7]

Remove the selected meshes from the current LOD.

Material [Added in Version 1.7]

Assign a material for this LOD. You can use a Standard Material, Shell Material or Mult/Sub-Object Material. Note that the material will only work where the Standard Material (either Root or in the other materials) has a diffuse TGA that has a name matching the diffuse TGA in the root model or lowed-level LOD materials except prefixed with LOD#.

If the root diffuse texture is named "mytexture.tga" then the LOD for LOD #1 must be "mytextureLOD1.tga". The material for LOD #2 could be "mytextureLOD1.tga" or "mytextureLOD2.tga", etc.
Rollouts on Wall Worm Model Tools.

WWMT Level of Detail Model List