WWMT Textures
Exporting your model's texture is fairly simple inside 3ds Max when using Wall Worm. But there are some things you have to be aware of.
Allowed File Types
Valve's Vtex.exe only permits TGA files to be converted to VTF files (which is the file format used inside Source games). As such, Wall Worm will only allow you to export TGA files. If you have a material applied to your model, only those slots with a TGA bitmap will get exported (except for a few other special map cases such as Normal Bump--which also requires the input maps to be TGA bitmaps). The exception is if you have Wall Worm Pro installed. In that case, any texture node is valid (see video below).
Bitmap Dimensions
Only TGA bitmaps that have valid dimensions will get exported. The height and width must be of the following pixel size: 2, 4, 8, 16, 32, 64, 128, 256, 512, 1024, 2048, 4096. No other pixel size is permitted and Wall Worm will not allow you to export invalid dimensions.
Material Types
Wall Worm expects you to use one of the following Materials on your model: Standard, Shell*, Multi/Sub-Object*. (*Where the Baked Material of Shell and the Sub Materials of a Multi/Sub-Object are, eventually, Standard Materials.)
In a Standard Material, the maps used determine what gets exported. The following chart details most of the maps used (though some slots such as Refract have been added since the graphic was made.) See here for more details.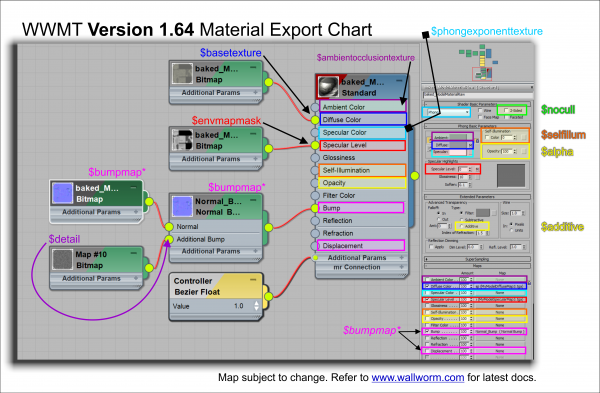 Exporting Model Textures
You can export the current WWMT model (in the Wall Worm Model Tools) by clicking the Export VTFs button in the Model & Basic QC rollout.
You can export the textures for all selected WWMT helpers by clicking Wall Worm > Wall Worm Exporters > Export Selected Model Textures.
Latest Articles
Posted
on Jun 24, 2015
|
Last Updated Mar 31, 2017
With Wall Worm Pro, you can export arbitrary texture maps as VTF files in Source.
vtf, wwpro, texture, procedural
Set Up Wall Worm for Garry's Mod in 3ds Max
Posted
on Aug 18, 2013
|
Last Updated Aug 16, 2019
Instructions and video on setting up Wall Worm to export levels, models and materials using Wall Worm 3.71+ and 3ds Max 2018.
gmod, garry's mod, garrysmod, steampipe, setup