Wall Worm Anvil
Formerly called Wall Worm Displacement Tool
Anvil is a set of Level Design Tools that help you get your 3ds Max scene into the Source Game Engine. The main features of Anvil are:
Tools to create Displacements
Tools to tag geometry as world (brush) geometry
Tools to tag objects as belonging to the 3D Skybox
VMF Exporter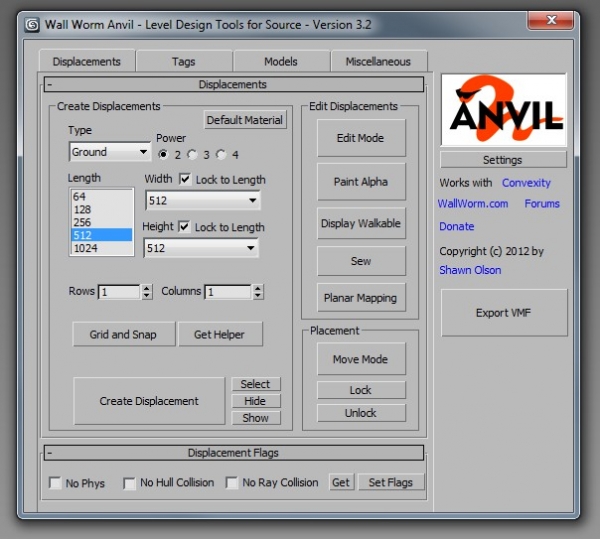 Latest Articles
Understanding Displacement Blend Texture Scale
Posted
on Oct 11, 2012
|
Last Updated Oct 11, 2012
This page explains one cause for displacement materials to be scaled incorrectly in Source as well as the solution. You should use bitmaps of equal dimensions in both materials controlling the Blend material.
displacement, texture, incorrect, scale, problem, fix, blend, worldvertextransition
Brush Geometry, 3D Skybox, 2D Sky, Animated Textures
Posted
on Oct 8, 2012
|
Last Updated Feb 28, 2015
Video tutorial and sample file on exporting a 3ds Max scene into a Source VMF file with Wall Worm.
vmf, animated texture, video turorial, sample file, download
Posted
on May 15, 2012
|
Last Updated May 15, 2012
This article details the process of setting lightmap scale on objects, displacements and faces with Wall Worm Anvil's lightmap tools.
lightmaps, lightmap, scale, lighting, shadows
Posted
on Apr 30, 2012
|
Last Updated May 31, 2013
This page explains how to recover your displacements from a Sculpt Mesh that was never committed.
Subtopics of
Wall Worm Anvil